Vrijdagochtend 14 mei 2021, de dag na hemelvaart, stond de taster van Prototyping.work op ons programma. Op Bliss groeidagen leren we collectief van en met elkaar. Deze editie was bijzonder op meerdere fronten. Inhoudelijk hebben we in twee uur tijd zoveel content gemaakt en gedeeld dat het lijkt alsof we een Timelapse video hebben opgenomen van een dag. Daarnaast is de vorm en begeleiding door de heren Coert, Ben en Edwin van hoog niveau.
Deze sessie geeft je dubbele-espresso-full-body-workout-energie, wat een blast????!
Laten we beginnen met de omstandigheden en type uitdagingen waar prototyping een waardevolle tool kan zijn. Voor de theoretische onderbouwing werden we meegenomen in het Cynefin framework. Als veranderaars komen we veel methodes tegen, dus we zijn wel wat gewend. Dit framework duidt vier typen situaties waarmee je bij een verandering te maken hebt. Het herkennen van de situatie helpt natuurlijk enorm om een goede keuze te maken voor hoe je met de uitdaging omgaat.
Eenvoudige situaties vragen om een vooraf bekende oplossing.
Gecompliceerde situaties vragen om een projectmatige aanpak.
Chaotische situaties vragen om een praktische aanpak, doen en waarnemen.
Complexe situaties vragen om een protyperende aanpak.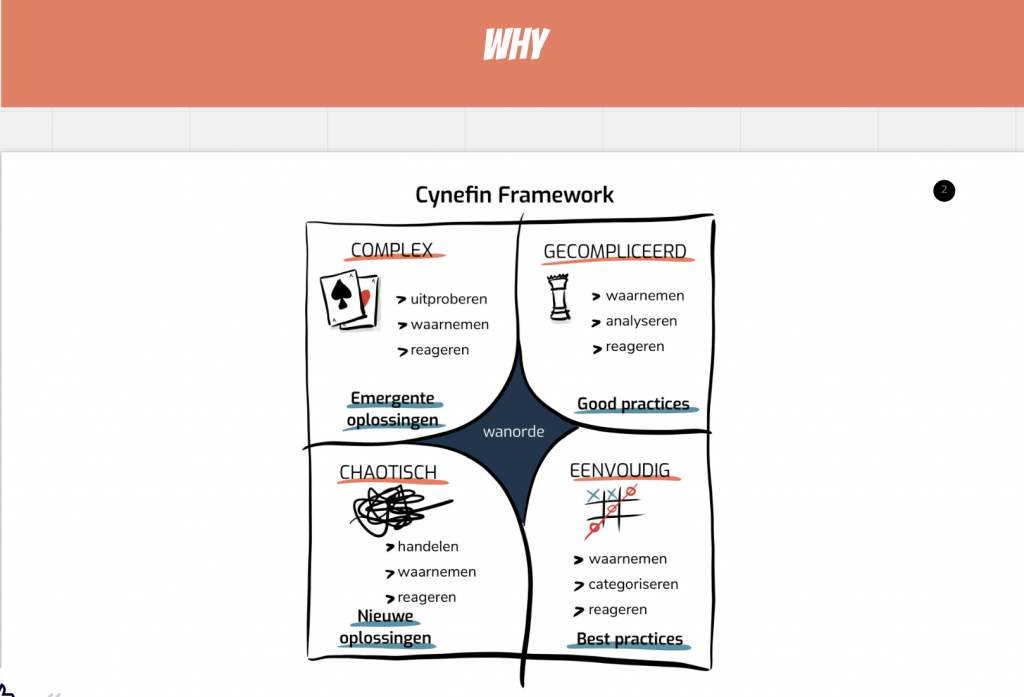 Als je je nu afvraagt, wat is dan een complexe situatie, uitdaging of verandering waar we in ons bedrijf voor staan? Denk dan aan systemen en situaties waar zaken constant in beweging zijn. Dit is typisch het geval bij een uitdaging of vraag waar mensen een grote rol spelen.
"Hoe kunnen we onze organisatie wendbaarder maken?"
"Hoe verbeteren we de interne samenwerking binnen het bedrijf?"
"Hoe kunnen we mensen beter betrekken?"
Een programma of projectmatige aanpak waarin de uitdaging gestructureerd en gecentraliseerd wordt aangepakt biedt op dit type vraagstuk meestal geen bevredigende uitkomst.
En een oplossing die bekend is van andere organisaties kan juist bij jouw bedrijf de plank volledig misslaan. Ook kan een centraal aangestuurd project en team van bovenaf vaak de echte problematiek die mensen in het werk ervaren niet overzien. Prototyping is erop gericht om de uitdagingen en spanningen te verzamelen, oplossingen te genereren, valideren en testen in de praktijk. Het dwingt je om oplossingen klein te maken en kort-cyclisch je aannames te toetsen. Uitermate geschikt voor een omgeving waarin gedrag en wensen constant veranderen. De 'tension' waarmee wij deze ochtend hebben gewerkt = 'Hoe kunnen we de verbinding tussen Bliss*ers op opdracht en HQ Bliss*ers versterken?'
Met creatieve brainstorming creëerden we 80 ideeën in vijf minuten en hadden we nog eens zeven minuten nodig om de beste ideeën extern te valideren via de good-old telefoon. Heel tof om zo op schaal de denkkracht van een groep in te zetten voor het oplossen van een complexe uitdaging.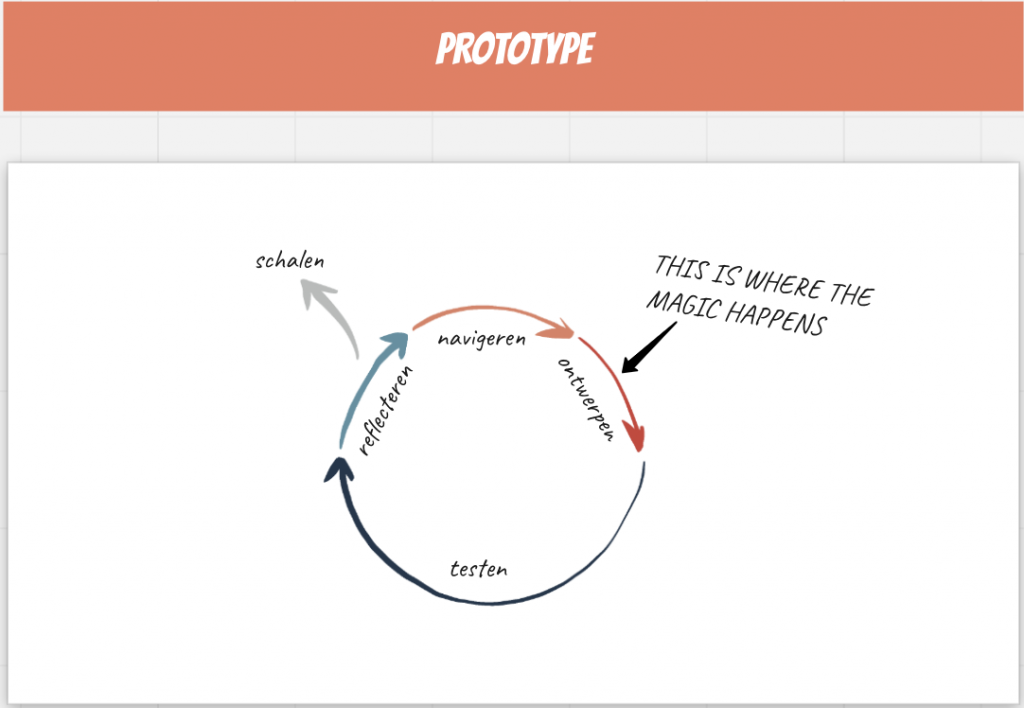 We sloten de ochtend af met een Kanban bord waarin de winnende oplossingen de komende 2 weken worden getoetst. De methode is dus niet alleen energiek en leuk, maar ook nog eens super praktisch.
Ontzettend veel dank aan Protoyping.work; Coert Prins, Edwin van der Geest en Ben MacKenzie !
En voor iedereen die na het lezen denkt, 'weer een methode' tot slot nog een korte disclaimer:
Bliss*ers hebben na vandaag een belangrijke verander-tool aan hun rugzak toegevoegd en kunnen bij onze klanten deze op de juiste momenten waardevol inzetten. Je kent wellicht de analogie van een kind met een hamer ziet in alles een spijker. Prototyping is in veel vraagstukken ook niet de juiste aanpak. Wij vinden het van groot belang om bij ieder verander vraagstuk de juiste aanpak te kiezen. Precies daarom werken wij bij Bliss met ons methode-onafhankelijke UR framework.

Happy Friday allemaal!