Hoe zorg jij in je dagelijkse werk voor effectieve en zinvolle interacties die bijdragen aan het gewenste resultaat? Als veranderaars zijn wij bij Bliss continu in dialoog over hoe we de visie van de klant naar werkelijkheid brengen. Een effectieve dialoog voeren is nog best een uitdaging in de praktijk. In iedere fase van de verandering moet de, dan te voeren, dialoog gefaciliteerd worden met de verschillende betrokkenen. Het ene moment om tot een gezamenlijk doel te komen, het andere moment om de aanpak af te stemmen. En soms is het gesprek aangaan even nodig om de frustraties tijdens de realisatie uit de lucht te halen.
Bij Bliss proberen wij ons bewust te zijn van onze eigen impact op de effectiviteit van de dialoog. We blijven onszelf steeds de juiste vragen stellen vóór iedere interactie: 'Wanneer is het overleg succesvol?', 'Hoe zorg ik dat we tot een besluit komen tijdens dit gesprek?', 'Wat heeft de ander nodig aan informatie om zijn of haar perceptie te delen?' of 'Hoe zorg ik voor structuur in het gesprek?'.
We geloven dat door dit iedere dag te doen je steeds effectiever wordt in het bereiken van je resultaten. Met effectieve interacties realiseren we meer, zoals het voorkomen van onnodig overleggen of onduidelijkheden die op tafel komen. Tijdens de gehele verandering toetsen we of iedereen nog steeds hetzelfde beeld heeft om van urgentie naar resultaat te komen. Daar gebruiken wij ons eigen interactiemodel voor: het UR verander framework.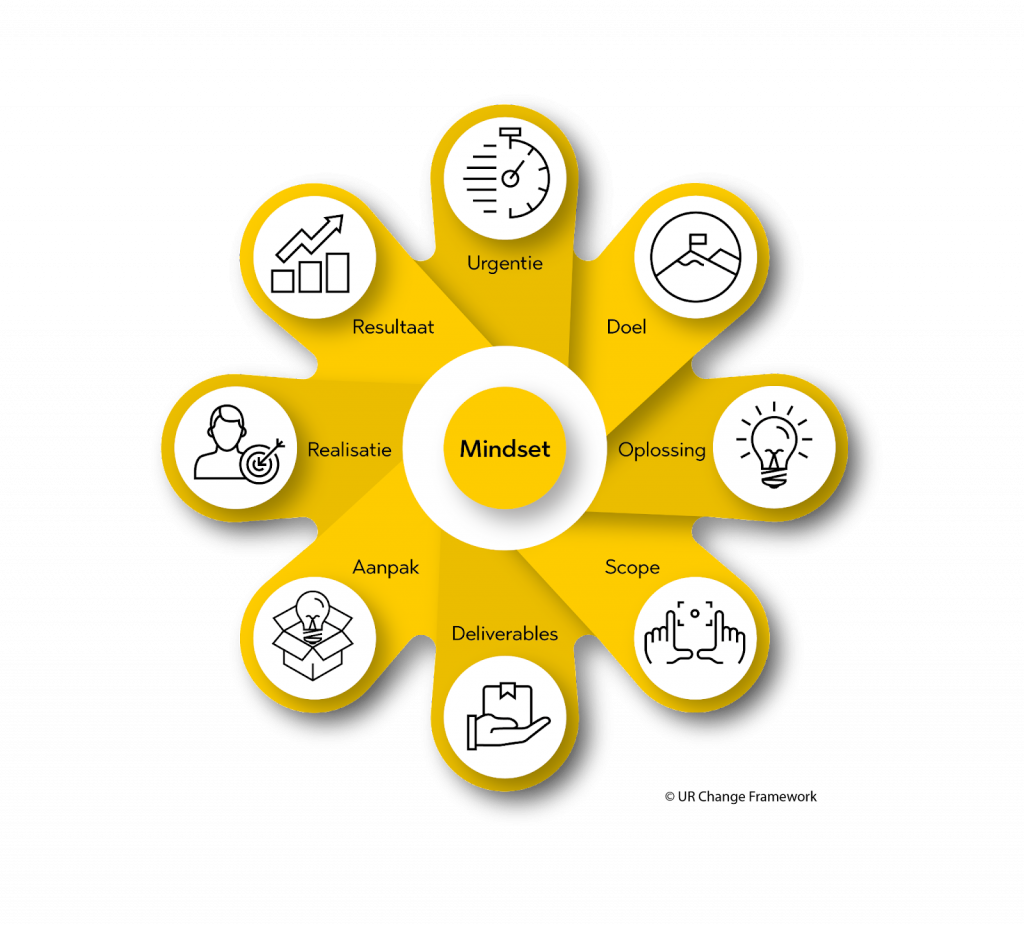 .
Ieder element in het model vraagt om een ander dialoog met andere mensen. Maar wat doe je bijvoorbeeld als je tegen issues aanloopt en je gesprekspartner maar 10 minuten de tijd voor je heeft? De vorige Groeidag nam Willem de Weijze, een van onze Bliss consultants, ons mee in de kracht van visualisatie. Aan de hand van zijn huidige project bij de Nederlandse Transplantatie Stichting liet Willem zien hoe hij een verandering in de scope heeft aangepakt. Willem vertelde ons hoe je je stakeholders mee kan nemen zonder ze lastig te vallen met een technisch of zeer inhoudelijk verhaal. Je wilt de complexiteit van je verhaal zo weergeven dat het voor iedereen begrijpelijk is in slechts een oogopslag. Niemand heeft tenslotte zin en tijd om eindeloos lange rapporten te lezen als het ook makkelijker kan. Daarom maakt Willem regelmatig gebruik van praatplaten. Door het maken van een praatplaat werd in Willem's project in een keer duidelijk wat de impact van de scopewijziging was, wat de mogelijke oplossingsrichtingen en consequenties waren en waar nog over besloten moest worden.
Willem liet ons zien dat je als veranderaar een praatplaat ook voor andere doeleinden kan gebruiken. Zoals het verzamelen van input over een bedrijfsproces, het accorderen van een projectplan of het visualiseren van een toekomstvisie. Het visualiseren van een complexe boodschap met behulp van een plaatje helpt om de juiste dialoog te kunnen voeren. Een belangrijk uitgangspunt is dat het plaatje daarvoor niet perfect of af hoeft te zijn.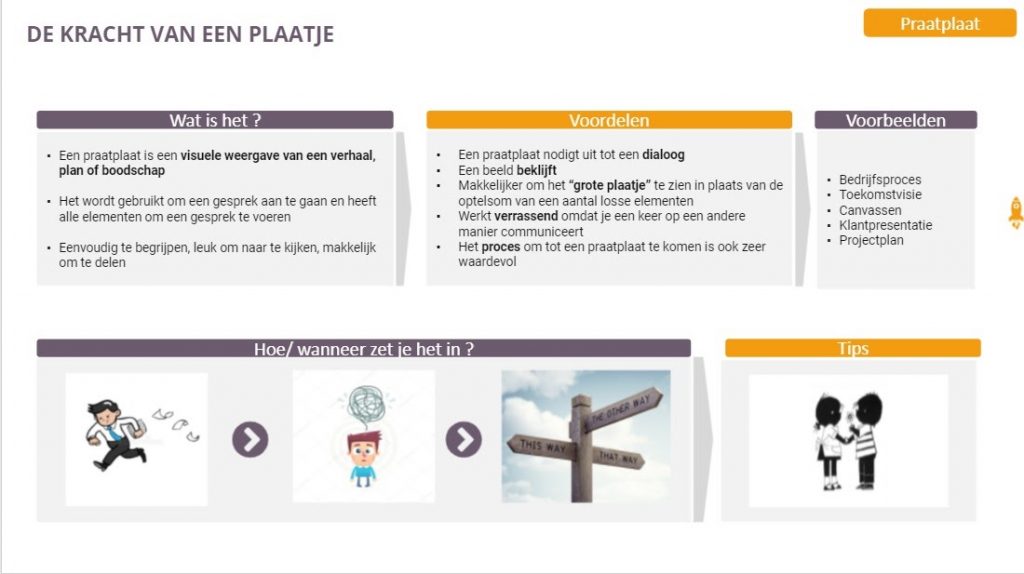 Vervolgens zochten we tijdens de Groeidag de verdieping op over hoe je zo'n praatplaat opstelt. Wat van belang is als veranderaar is dat je de context weergeeft door een titel, een korte omschrijving of visualisatie die je kan toelichten. Het volgende onderdeel is de inhoud: het verhaal dat je wilt vertellen met een duidelijke kernboodschap. Als laatste werkt het vaak goed om op je praatplaat expliciet een voorstel of besluit te benoemen. Dit kan in de vorm van een vraag aan je stuurgroep, een opdracht aan je team of een digitale handtekening van je opdrachtgever.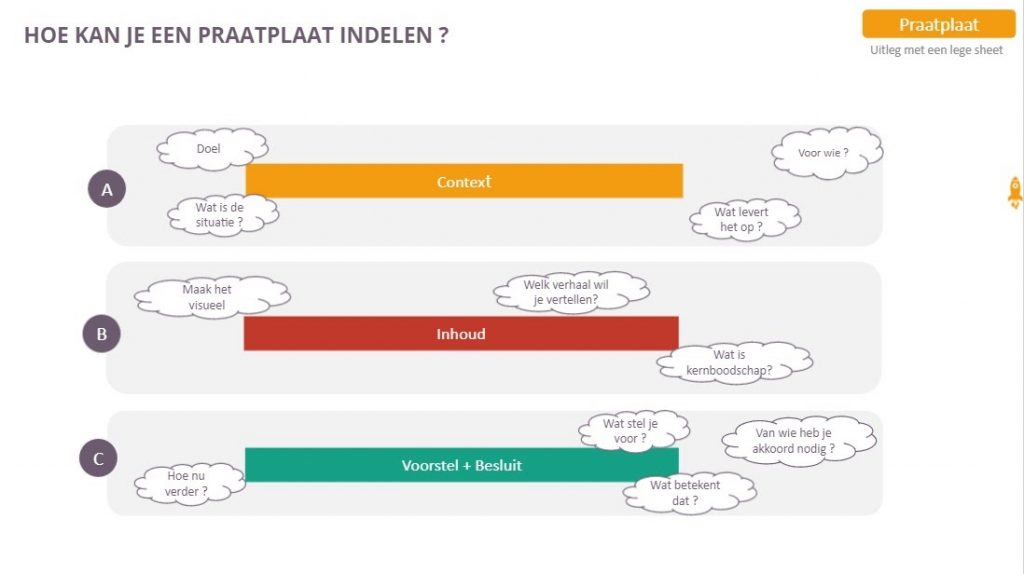 Hieronder zie je een concreet voorbeeld van Willem over hoe hij de wijziging in zijn projectscope heeft weergegeven, zodat zijn opdrachtgever snel kon reageren op zijn voorstel in de vorm van een handtekening.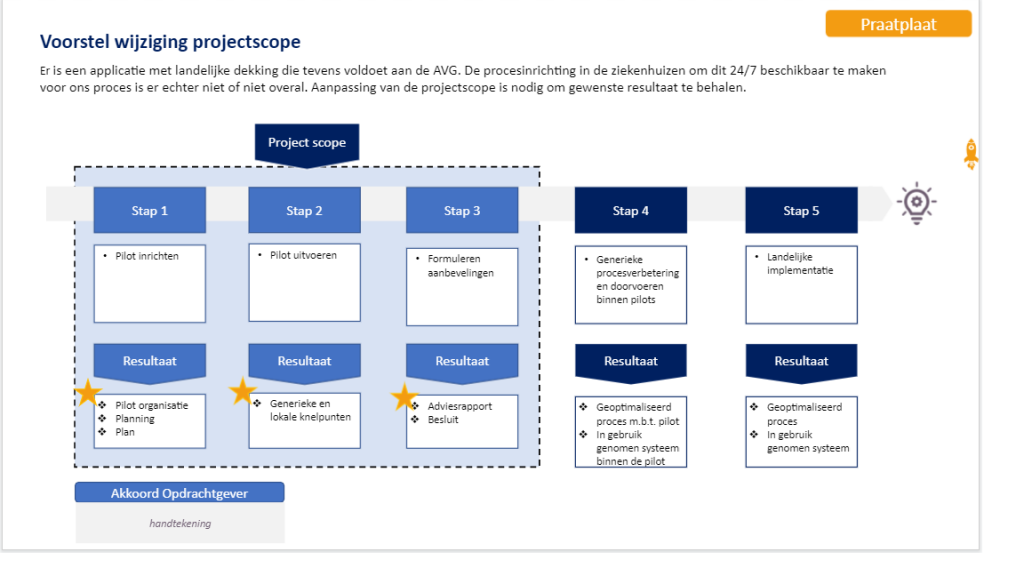 We sloten de middag af met een interactieve oefening. Willem zette ons aan het werk door in groepjes van 4 op basis van een case een voorstel aan de groep te presenteren door middel van een praatplaat. Binnen 20 minuten kwam ieder groepje met een unieke praatplaat waar scenario's werden toegelicht met de voor- en nadelen en werd de groep gevraagd om tot een besluit te komen, bijvoorbeeld door te stemmen op de beste oplossingsrichting. Een slimme tool om snel een beslissing van je stuurgroepleden te ontvangen!
Hieronder de case van de oefening voor de praatplaat en de verschillende plaatjes die de groepen hebben gemaakt.
Welke van deze vier praatplaten lijkt jou het meest effectief?

Groep 1: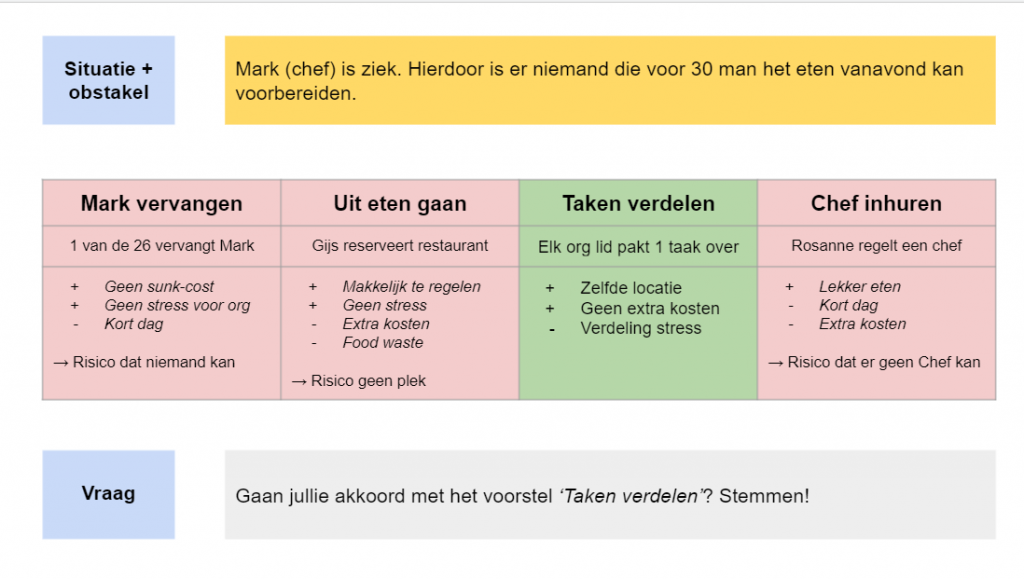 Groep 2: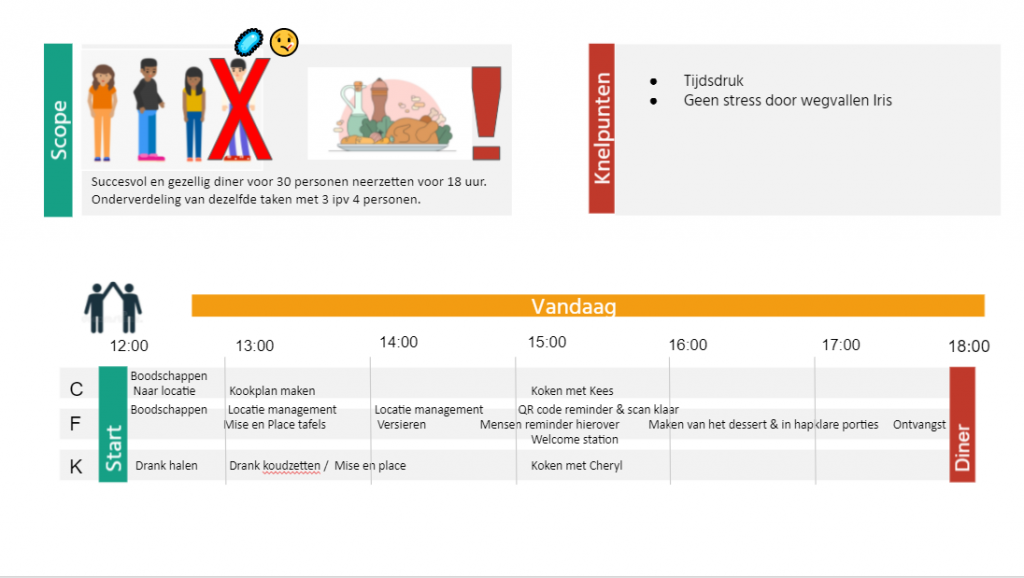 Groep 3: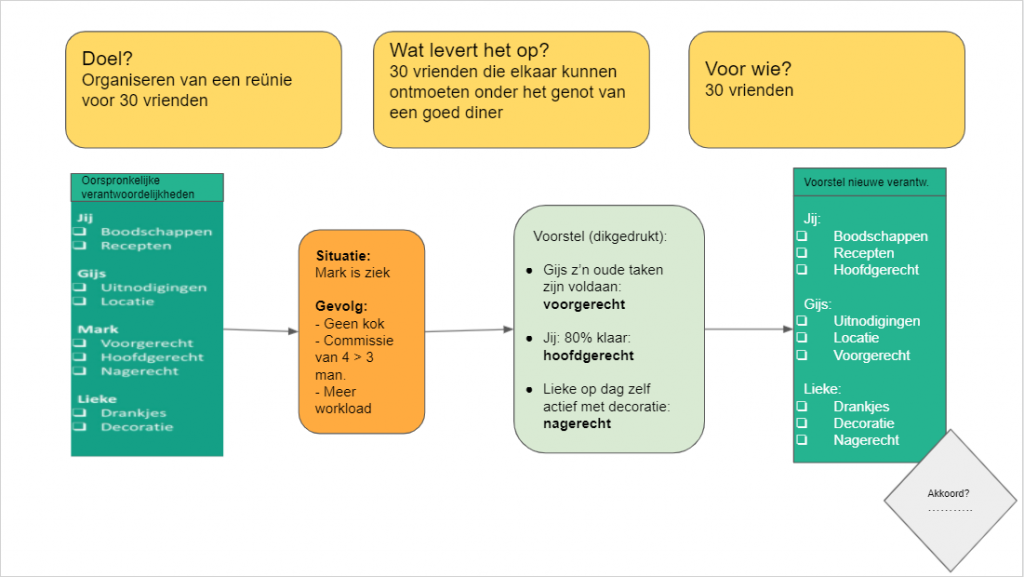 Groep 4: